Overviews
MU Mixer is a cylindrical, static in-tube mixer that does not require mechanical mixing power. Only the energy of fluid flow is used to stir and mix.
Two right-handed and left-handed wings are arranged alternately in the cylindrical tube, and several elements are arranged with void at the center in axis direction. The fluid flows through the mixer, which splits, rotates, shears, merges, and reverses the fluid, continuously mixing and stirring it. Applications include mixing liquids that differ in specific gravity, viscosity, or temperature, or mixing two or three components: liquid, gas, and powder. The examples are the production of carbonated water using water and carbon dioxide, the production of ozone water using water and ozone gas, gas-liquid reactions between organic compounds and chlorine-based gases, and ozone sterilization of ballast water.
Principles
MU Mixer consists of right and left twisted MU Elements that are alternately placed at right angles to each other at the edges of the wing body to arrange the required number of MU Elements.
The fluid flowing inside the MU Mixer passes through MU Element and is continuously mixed with high efficiency by the generation of vortex flow due to the division, merging and reversing of layers and the shearing force in the axial direction.
On the other hand, MU Mixer, which is composed of MU-SSPW, consists of multiple spiral perforated wings with right and left twists, with MU Elements arranged alternately. The liquid is mixed with high efficiency by the spiral perforated wings.
Structure
The MU Mixer is made of alternating right and left twisting MU Elements. The elements are placed perpendicular to the edges of the wings.
The number of elements in MU Mixer is decided in consideration of mixing efficiency, viscosity, specific gravity, etc.
Applications
Liquid-liquid mixer

Liquid-gas mixer

Gas-gas mixer
Specifications
Specifications of MU Mixer
Name

Diameter

No. of division

Manufacturing Method

Material

1

MU Micro Mixer

ID 3.8mm

2

Molding

ETFE

2

MU Mixer

(Built in MU-SSPW)

50A-1800A

3-24

Welding

PVC, PP
SUS, TITANIUM,
ALLOY

3

MU Mixer

(Built in MU Mixing Element)

25A

2

Molding

PVC, PP

50A

2

Molding

PVC, PP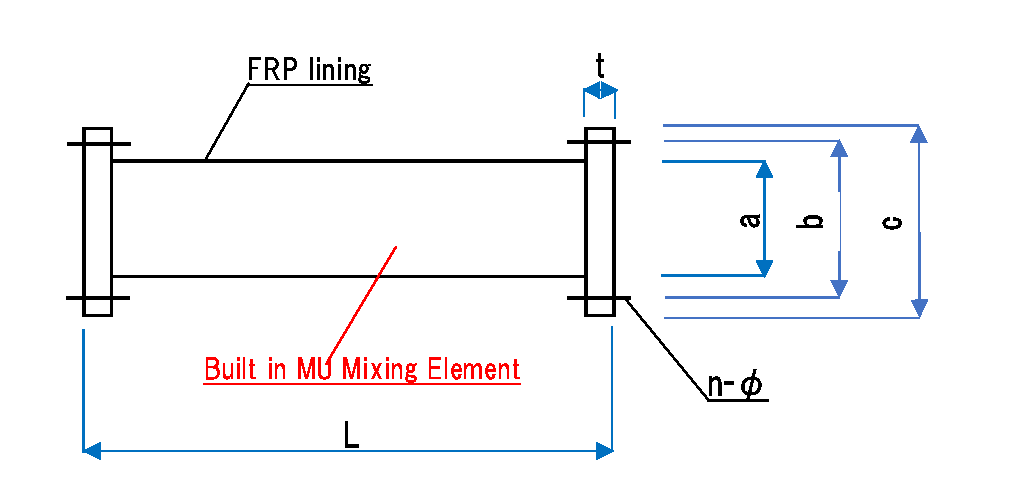 Dimension drawing of MU Mixer (Built in MU Mixing Element)